Over the past decade there have been a handful of books that have powerfully and positively nudged women out of their comfort zones and into the mysterious unknown. The most recent and racy of the bunch, 50 Shades of Grey, has given even the globe's most reserved women the courage to explore their previously dormant or formerly perceived taboo, innermost fantasies.
Reviewing the findings of the latest Global Survey presented in a handy infographic, we were pleasantly surprised by the amount of women experimenting with soft BDSMaccessories (not to mention sexting). We've also seen increased interest in topics surrounding  BDSM basics, from hard limits to how to perform aftercare.
WHIPS—JUMP IN SALES: 50%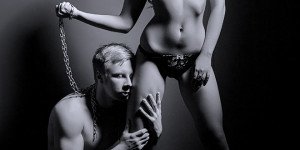 Contrary to popular belief, a whip's purpose is to deliver a light stinging sensation coupled with a naughty sound, not extreme pain. A whip signifies control, making its holder the dominant one during sex. While the degree of sensation delivered is up to you and your partner, most whip-play is light and, when paired with other forms of verbal and non-verbal communication, adds a risky, frisky touch to foreplay and intercourse.
BLINDFOLDS—JUMP IN SALES: 80%
Any time one of our five senses is taken away, our remaining senses become heightened. In addition, according to sexologists, while men are most turned on by what they see, women are most turned on by what they feel. Put these two scientific facts together and it's no surprise women report experiencing quicker and higher levels sexual arousal when deprived of sight.
HANDCUFFS—JUMP IN SALES: 100%
COUPLES' VIBRATORS—JUMP IN SALES: 200%
No human body part can provide the frequency, stamina and subsequent orgasm-inducing sensations of a vibrator (sorry guys). Couples' vibrators are worn by women and designed to send mutual, pleasurable sensations through both partners' bodies during sex, adding a splash of adventure to the equation.
BEN WA BALLS—JUMP IN SALES: 400%
Also commonly known as Geisha Balls or Ben Wa Balls are one of life's rare entities that give us pleasure while simultaneously bringing us to peak intimate health. In addition to increasing the strength of your pelvic floor muscles, Luna Beads promote pleasurable, internal vibrations simply by reacting to your body's natural movements.
As you could assume our findings have us more excited than ever about what the future has in store for the women of the world as they begin exploring new pleasures with BDSM accessories. After all, isn't it about time you chose a New Year's resolution worth keeping up with.